Cuddles and supports you without taking up the whole bed. The cozy mid-sized pillow saves on space while the contoured design gives support where you need it. Plush support in a slightly smaller size than a Total Body Pillow that your partner will appreciate.

The Boppy® Cuddle Pillow gives versatile pregnancy and postpartum support from head to toe. This pillow can be used on your head and neck, baby bump and legs, or back and legs. It is also a great pillow anytime for between your knees for better hip alignment.
The thoughtfully contoured shape saves room in the bed but doesn't skimp on support. Curved to match your natural leg line when side sleeping, it is the perfect pregnancy pillow if you are trying to leave a little room for your partner too.

Great for sleeping and for getting comfy while lounging at home. The curved design gently hugs you for back or knee support while lounging on the sofa or sitting up in your bed to read or create your online baby registry. It is also so comfy and versatile you will probably continue using it well after your pregnancy (if your partner doesn't take it first). This pillow is an employee favorite at the Boppy office because it supports so many sleeping styles.

The soft, breathable pillow cover provides cooling comfort. The pillow and the pillow cover are both machine washable, so it is easy to clean.

The Boppy Cuddle Pillow is part of a full line of Boppy maternity pillows designed to support the varying needs of pregnancy. All prenatal pillows support pre and post birth and help you get comfortable while sitting or sleeping.
Features
Product Instruction
Resource
Features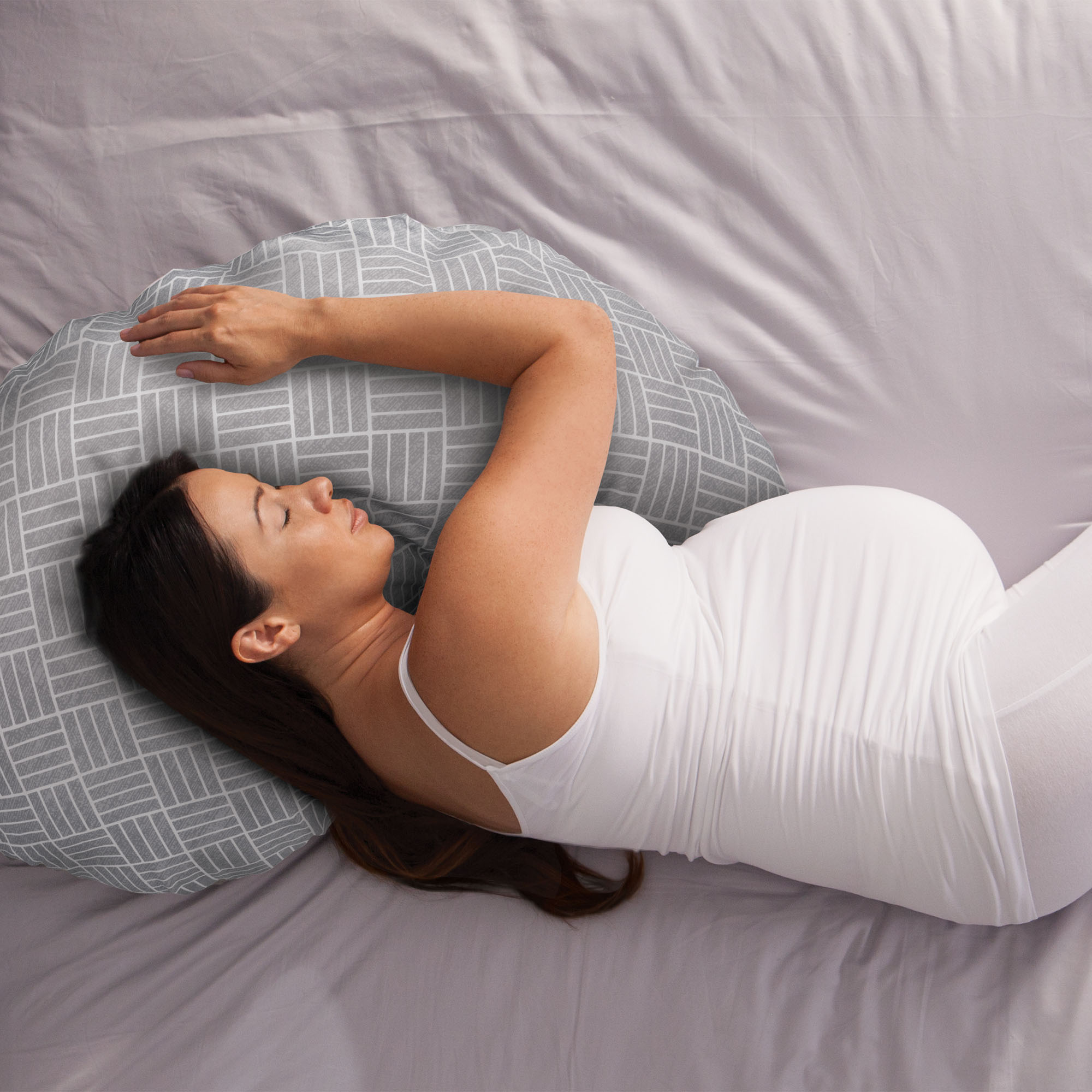 • CONTOURED DESIGN: Unique contoured shape for versatile comfort and designed to follow the shape of your body and cradle you where you need it
• SUPPORT PRE AND POST BIRTH: Provides support and alignment for your head and neck, baby bump and legs or back and legs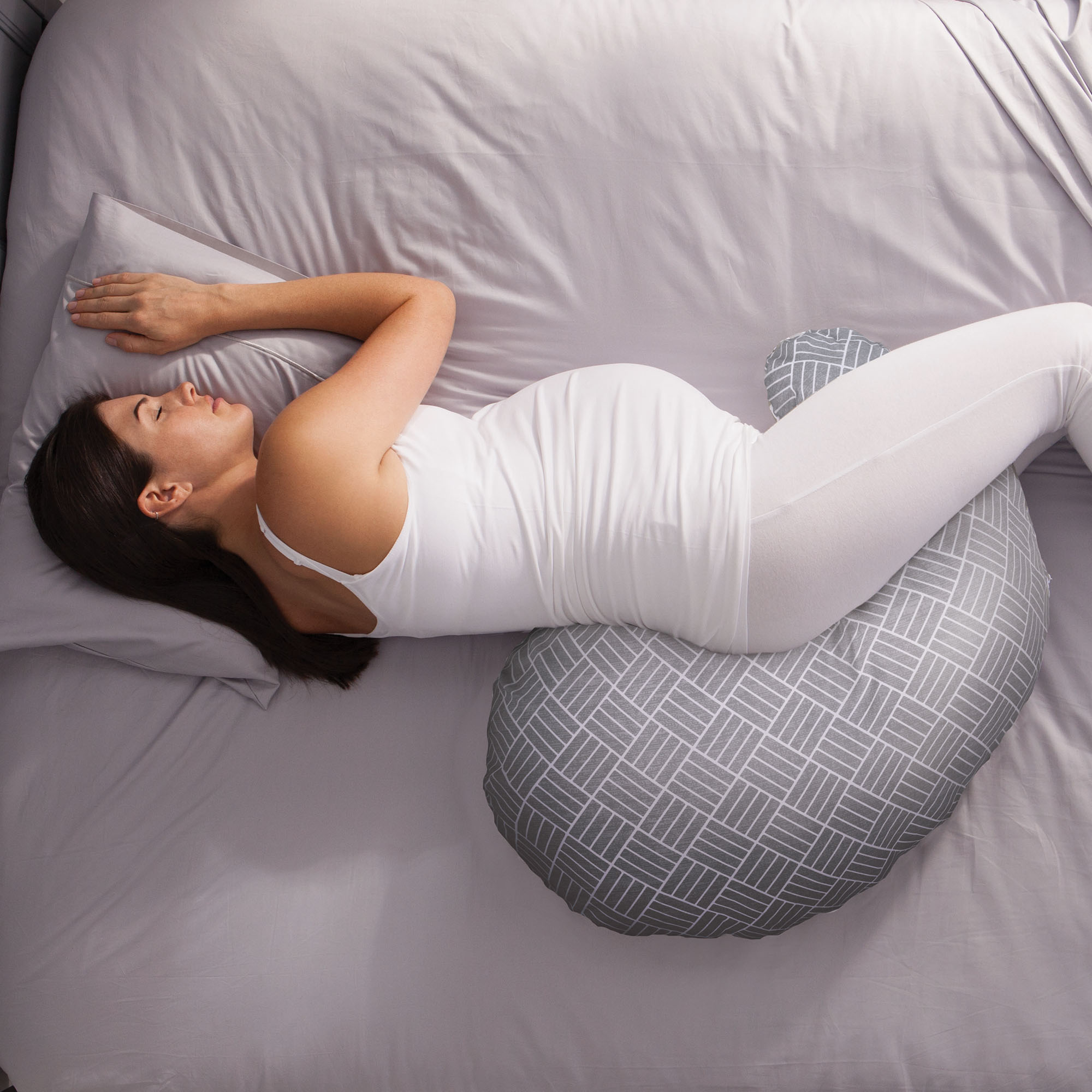 • MACHINE WASHABLE WITH REMOVABLE PILLOW COVER: Machine washable pillow and easy-zip removable, machine washable cover for simple care
• 100% BREATHABLE BAMBOO SLIPCOVER: Comes dressed in a removable, soft bamboo fabric slipcover for cool breathability on warm nights
"Lying on your side with one leg crossed over the other with the Boppy® Pregnancy Support Pillow between your legs helps to optimize blood flow. This is important in getting the needed nutrients to your baby as well as to help minimize swelling to your hands, feet and ankles."
Eboni S. Hollier, MD, FAAP (Mommy MD)
Product care
Slipcover: Machine wash slipcover separately, delicate cycle, 30˚C/85˚F. Bleach as needed. Tumble dry low on delicate cycle. Cool iron as needed. Do not dry clean.
Pillow: Use commercial size washer or dryer. Machine wash delicate cycle, 30˚C/85˚F. Tumble dry low on delicate cycle. While drying pillow, throw a sneaker or tennis ball (wrapped in a pillow case) in the dryer to help the pillow keep its shape. Only non-chlorine bleach when needed. Do not iron. Do not dry clean.
Product Instruction
Not too big, not too small, the Support Pillow is just right for better sleep. Supports belly, hips and legs and offers the comfort mom needs without taking over the bed.
Slipcovered Total Body Pregnancy Pillow
$50.00
Side Sleeper Pregnancy Pillow
$30.00
Pregnancy Jersey Wedge
$16.00
Total Body Pillow Cover - Boutique Exclusive
$16.00