Get a FREE Little Loop with your Boppy carrier purchase! Simply add both items to your cart to see the savings.
Designed for you with style and comfort in mind. The Boppy® ComfyChic Hybrid Baby Carrier is stylishly versatile with elegant accents and thoughtful features. With 4 carrying positions and quick-adjust arm straps, this carrier is perfect for sharing between caregivers.


The padded head support with vegan leather detail, yoga-inspired breathable fabric, dual zippered access waist pocket, integrated Stash n' Go pouch, and 4 carrying positions make this carrier beautiful and practical. The Snuggle Screen mesh panel, stretch wraps and adjustable arm straps for in-carrier nursing allow you to connect with baby while your hands are free.

Boppy's signature hybrid carriers combine the ease and security of a structured carrier with the comfort and connection of a baby wrap. At Boppy, we believe your carrier should be secure and comfortable for you and baby. Our carriers take the guesswork out of babywearing by combining the best of both wrap and structured carrier styles. This stylishly versatile design gives you a waist belt with storage pocket, a soft structured place for baby to avoid any wrapping confusion and easy-on arm straps for simple and secure babywearing. The breathable wraps bring you and baby close for added security. The unique Snuggle Screen mesh panels add an additional layer of connection and protect baby from the sun and wind. It also acts as a nursing cover while breastfeeding in the carrier.

Easy on the go with no infant insert required and it packs into an integrated pocket to toss into your diaper bag; 8-35 lbs. recommended baby weight. Enjoy 4 comfy carrying positions: newborn front face-in (legs in frog position), baby front face-in (legs out), front face-out and hip carry.

Be confident in your carrier decision. The Boppy ComfyChic Hybrid Baby Carrier is acknowledged as hip healthy by the International Hip Dysplasia Institute when used as directed. Adjustable waist belt: 56 inches maximum length.
Features
Product Instruction
FAQs
Features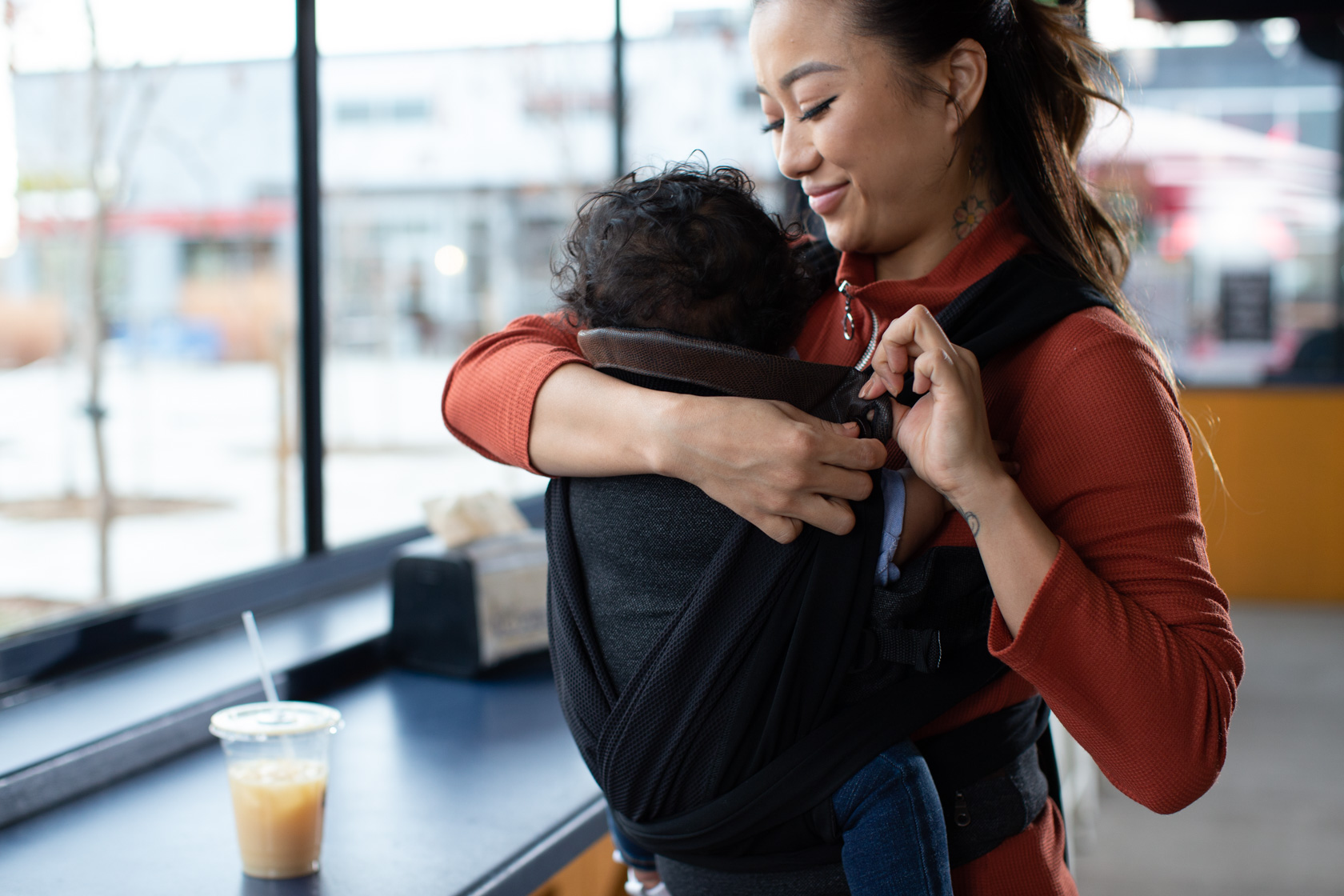 Easy to use
Stylish yoga apparel-inspired with vegan leather trims and luxury accents that fit in with your world
Adjustable underarm straps
Allow you to easily share among caregivers and great for breastfeeding; one size fits most
Adaptable seat width
Achieved through wrapping techniques, provide an ergonomic, comfortable seat for your baby in all four comfy carrying positions from 8-35 lbs., no infant insert required.
Semi-structured hybrid carrier
With padded center panel provides support for your baby's back and neck when front facing-in, neck support folds down for front-facing out position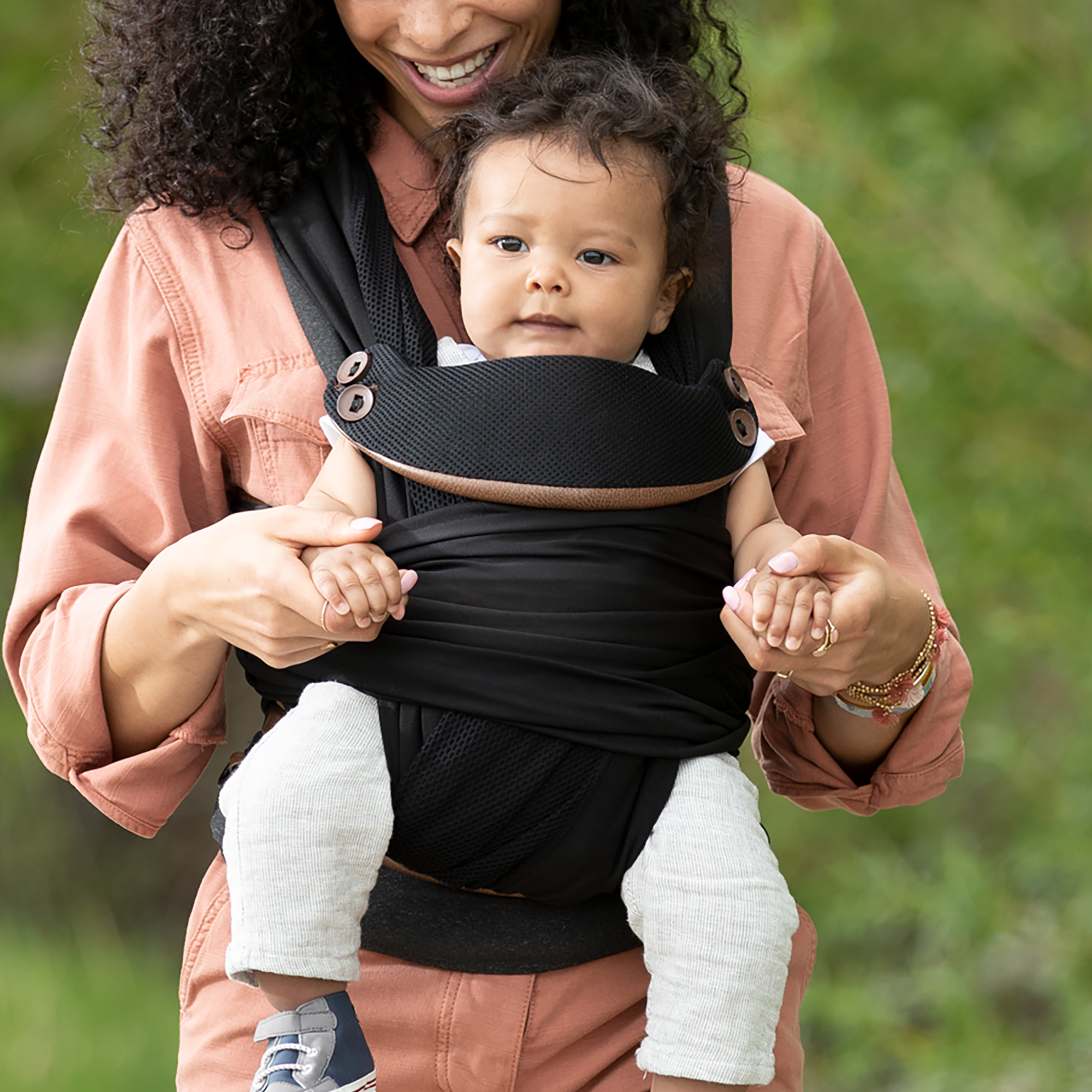 Cooling, performance mesh panels
Breathable and lightweight providing extra head support and privacy when desired
Padded waist belt
With zippered storage pockets offer convenient storage for wallets, keys or phone
Integrated Stash n' Go Pouch
Zips down from waist belt, to make carrier compact when not in use
Adjustable waist belt
55 inches maximum length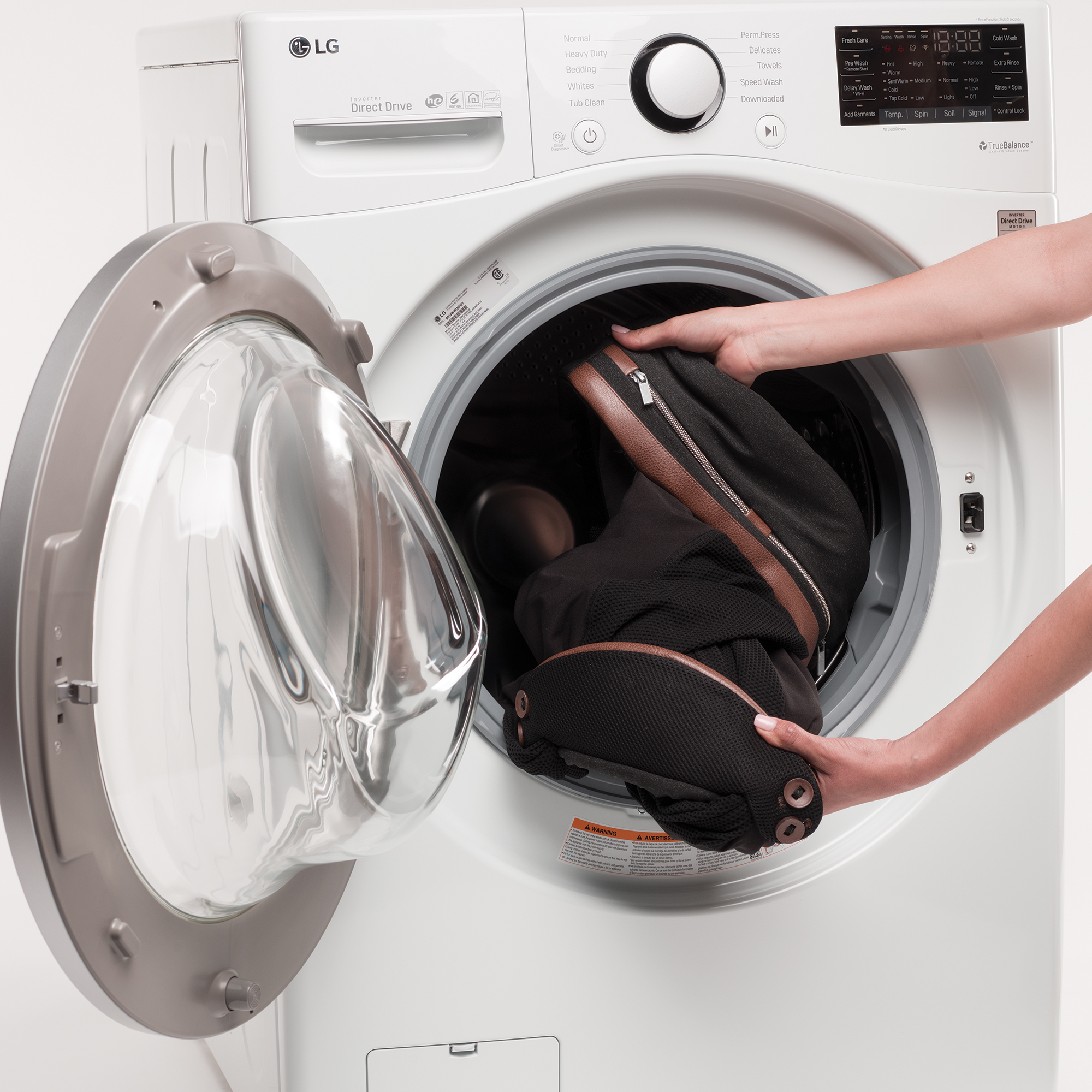 Machine Washable
Machine wash delicate/gentle cold 30 C. Non-chlorine bleach as needed. Tumble dry delicate/gentle, low. Do not iron. Do not dry clean.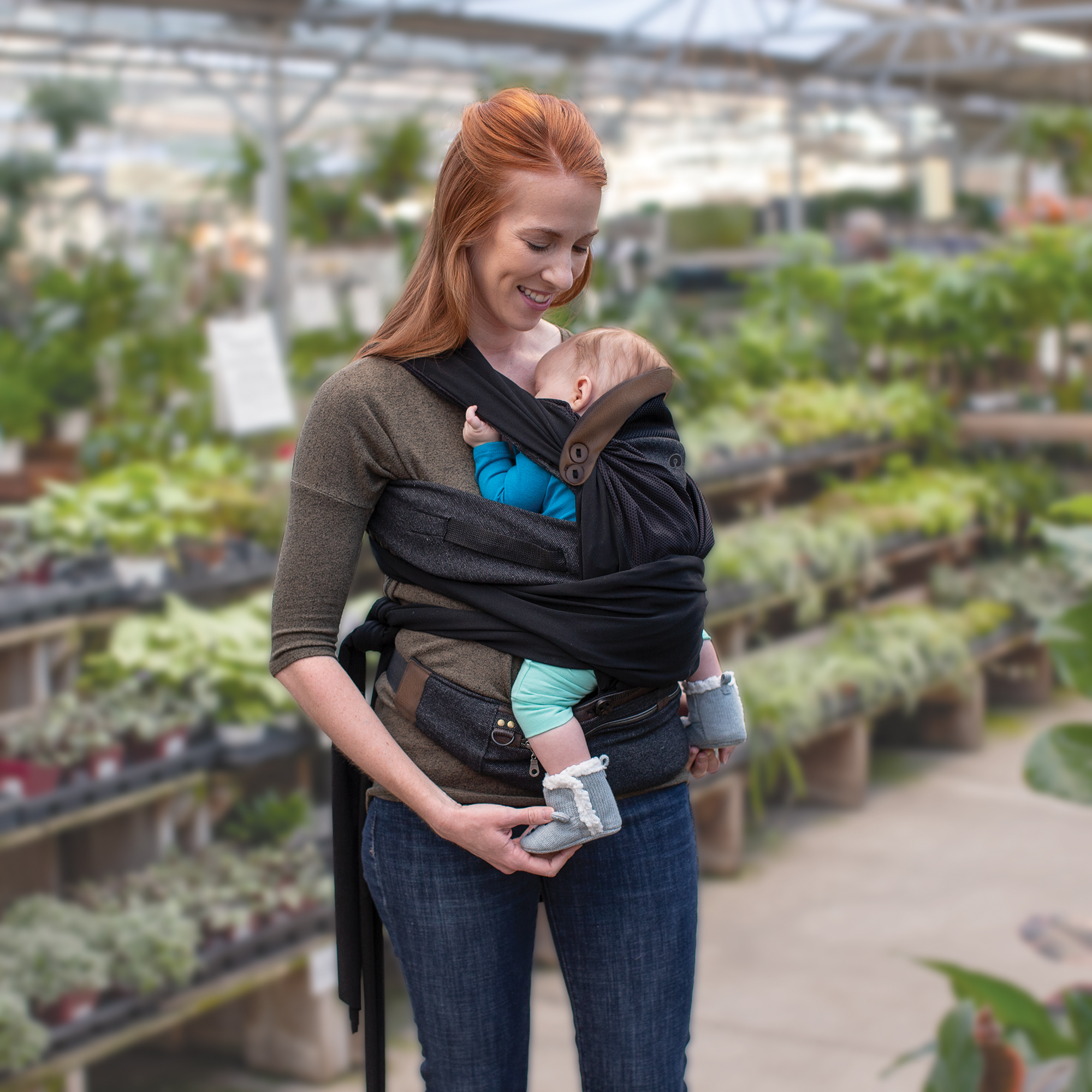 4 Comfy carrying positions
Newborn front face-in, front face-in, front face-out and side-hip carrying. Baby should be in the front facing-in position until 6 months of age. Check out the FAQ section for more details on carrying your baby in different positions.
Instructions & How to Wear
Click
Click the belt. Position the belt above your waist. (For most this will be on your belly button.)
Strap
Place straps to your shoulders. Spread the shoulder straps to avoid twisted, bunched up fabric that could cause discomfort.
Tie
Cross the straps and tie. Tie excess straps out of your way by wrapping them once or twice depending on your waist size.
And Go!
Enjoy a hands free moment while snuggling with your little one
The International Hip Dysplasia Institute (IHDI) acknowledges the Boppy® ComfyFit® Baby Carrier as a "hip-healthy" product when used as directed.
Frequently Asked Questions