Boppy Best Latch Breastfeeding Pillow
We have run out of stock for this item.
The Best Latch Nursing Pillow was created with a lactation consultant and designed to support many body types. The updated design now offers a wide, padded, adjustable belt, a large easy-close buckle, a flexible fit and added height and depth to provide ergonomic support while nursing. This breastfeeding pillow is two sided to give you the option between a firm contoured foam side that helps position baby for an easier latch while nursing and plush side for cozy comfort. Perfect for nursing or bottle feeding.

Designed for every body, this pillow features a wider middle that is great for a larger waist and bigger breasts. The padded waist belt supports plus sized women by keeping the pillow in place, and petite women to help the pillow better hug around. The added pillow height is perfect for women who are tall, have a long torso, or are flatter chested. The added depth supports women with larger breast. All of these features not only help the pillow better fit your body, they help position baby so you get a better latch when nursing.

The Best Latch Breastfeeding Pillow provides the option of firm foam in a washable design. The foam insert is protected in a water-resistant, wipeable cover and is removable so you can machine wash the pillow. And don't worry…the high quality, quick-drying fibers will not get misshapen in the wash.

This product is for nursing support only. Check out the Boppy® Original Feeding & Infant Support Pillow for a pillow to help with propping, sitting and tummy time.

Thank you to the millions of parents who trust Boppy! #BoppyLove
Features
Product Instruction
Features
• MORE TO LOVE: The updated design offers a wide belt, large easy-close buckle, flexible fit for many body types
• DEVELOPED WITH A LACTATION CONSULTANT: Boppy worked with the experts to help set you up for successful nursing
• TWO SIDED TO HELP YOU ON YOUR NURSING JOURNEY: A contoured foam side helps position baby for an easier latch and a plush side for cozy comfort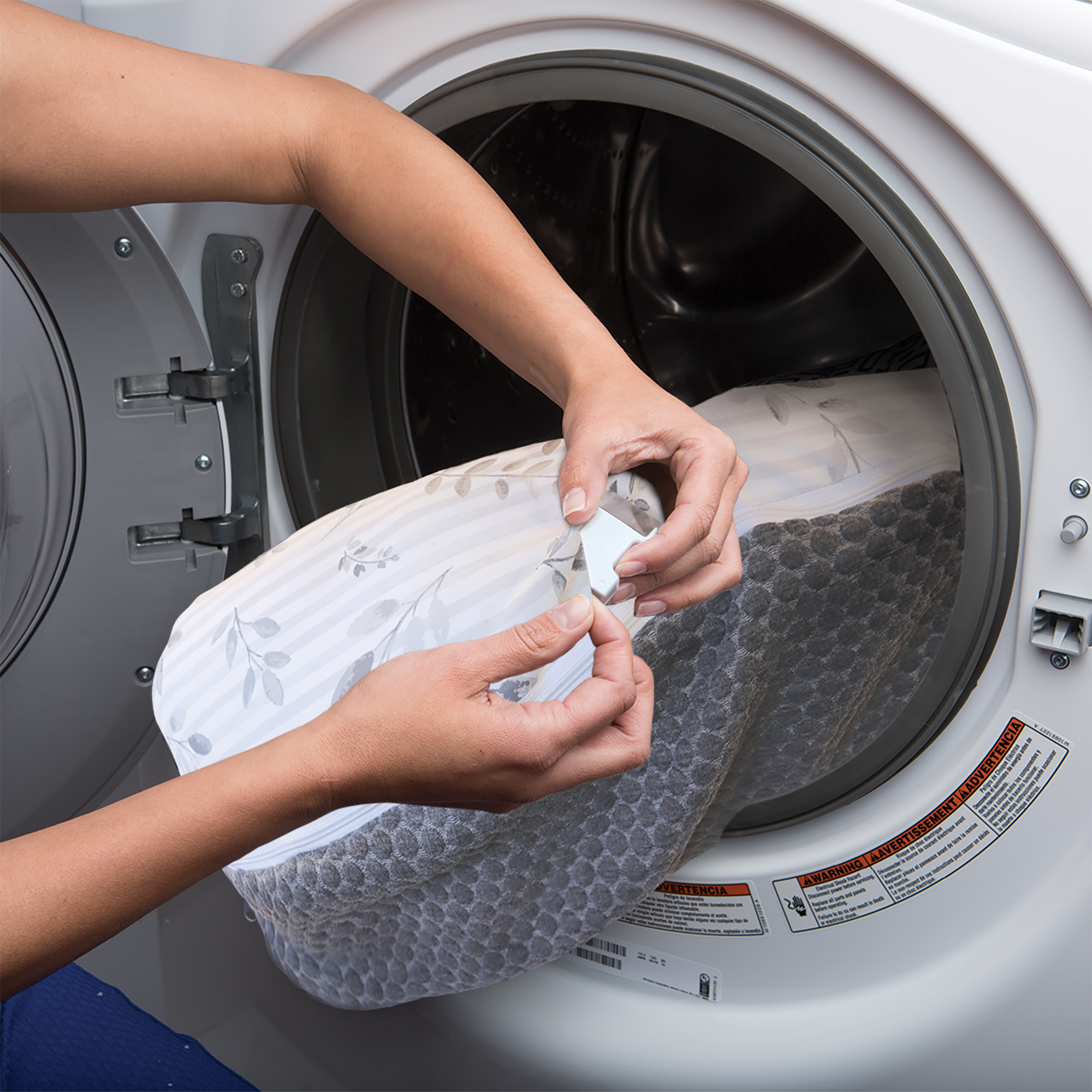 • PLUS SIZED TO PETITE: Created for nursing moms of all body types
• MULTIPLE FEEDING POSITIONS: Comfortably hold your baby in the feeding style that works for you
• EASY CARE: Just remove the wipeable foam insert and tie up the waist belt before tossing in the washing machine. The water-resistant insert cover makes cleanup easy
Designed for your baby's supervised, awake time
Recommended age: 0-12 months or 7-22 lbs.
Product care
Remove foam insert and belt before machine washing on delicate cycle. Machine wash pillow separately, delicate cycle. 30ºC/85ºF. Do not bleach. Tumble dry low. While drying pillow, throw a sneaker or tennis ball (wrapped in a pillow case) in the dryer to help the pillow keep its shape. Do not iron. Do not dry clean.
Foam insert is wipeable.